Brent Mason: Behind the Scenes with One of Nashville's Most In-Demand Players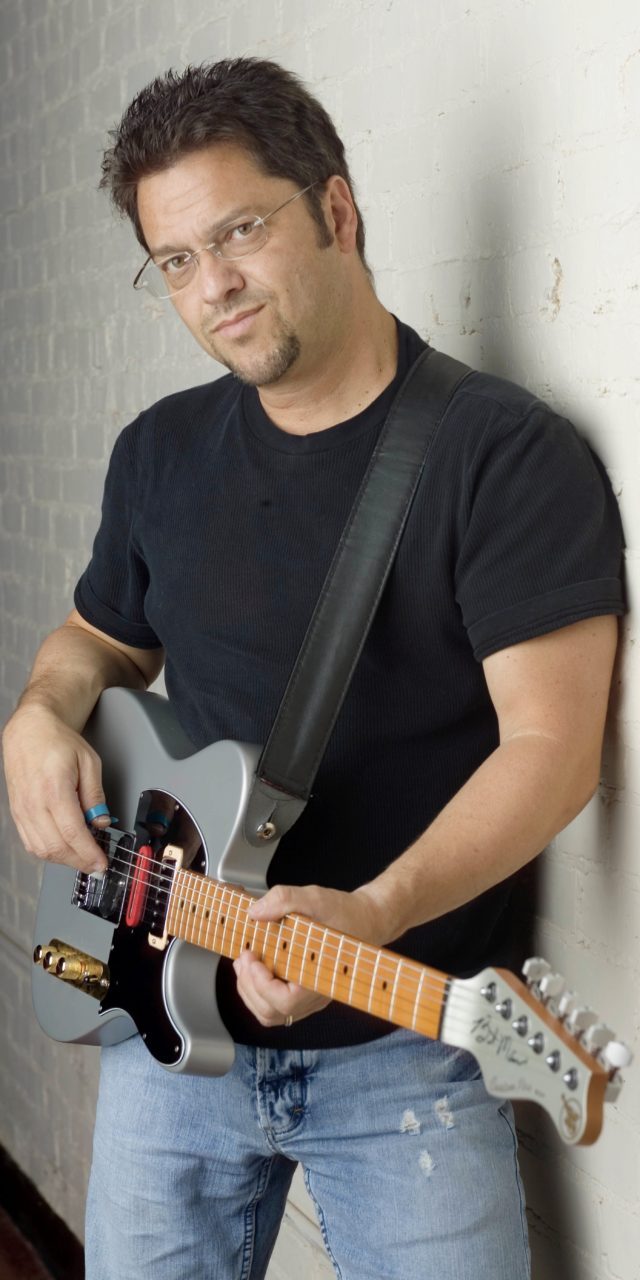 One of the most in-demand Nashville session guitarists of the past 30 years, Brent Mason of Local 257 (Nashville, TN) advises young players who would like to become a part of the Nashville music scene to do as he did: Come to Nashville, hang around, pay your dues, and learn the ropes from today's hot players.
A self-taught guitarist, Mason grew up playing in a family band with his parents and brother Randy, a drummer. As a youngster, he says he was always reading liner notes to find out who the instrumental heroes were who accompanied the named artist on his records. He hoped to join their ranks one day.
Eager to bring home a steady paycheck and save money, Mason took a job in a toolbox factory when he finished high school. One day he put a rivet through his thumb and realized that, if he stayed in the factory, he might lose his chance to use his natural talent.
Fortunately, his mom was already on it. She always knew her son's future was in Nashville and had connected him with steel guitarist and Local 257 member Paul Franklin. After hearing a recording of Mason, Franklin offered to introduce Mason to the Nashville music scene.
Arriving in Nashville, Mason was suddenly thrust into a world where he was meeting his liner-note heroes face to face. "I was a nervous wreck," he says. "I was around all these guys who were playing on records, names like renowned session drummer Larrie Londin and bassist David Hungate. In my eyes, they were stars; when I was around them, I had butterflies. Truth is, they were nice and they could see a musician's talent and potential from the first few notes."
One of the most important things Mason learned from the session players is the importance of the union and union contracts. "Pandemonium would occur if things weren't run through the union," he says. "Like all unions, there's strength in numbers. It sets a precedent for pay, a scale. Somebody trying to do it alone could be quickly taken advantage of."
"The pension is something I'm really happy about. I'm 57 now and I've got a pretty good pension," says the 35-year AFM member who adds that he's also benefitted from the Special Payments and AFM SAG-AFTRA funds. "They can tally up what you've played on only by pulling union contracts."
"If a guy just hands you $100 when you play on something, then later you find out it sold a hundred million records, there's no proof you played on it," he says. "Musicians need to be respected and compensated for their playing and intellectual contributions to songs. We want to know that our history of work is well documented and compensated fairly in retirement."
A couple years after arriving in Nashville, Franklin's brother-in-law, Gregg Galbraith of Local 257, helped Mason land a steady gig at The Stage Coach Lounge honky-tonk with the Don Kelley Band. For the next few years, Mason paid his dues, gigging until the early morning hours, then often heading out to Music Row around 8:30 a.m. for his growing session work, sometimes followed by a co-writing at the Monk Family Music Group where he also worked as a songwriter.
"It was kind of an ambiguous time for me. It was starting to wear me out," he recalls. That's when Chet Atkins called him up. "He said, 'I'm going to come tomorrow night to hear you play and I'm bringing George Benson. I was nervous, not only because they were going to show up, but also because it was a pretty dangerous redneck bar!"
"But, I thought it was a chance. When I looked over and saw they were digging it, that kind of calmed me down," says Mason, who got his big break shortly thereafter when Atkins phoned him and said, "I'd like you to be on my record on a song with Mark Knopfler."
The album, Stay Tuned, was a compilation featuring many guitar players. "I remember going into the record store when it came out to see if my name was on it. I thought I would sneak and open the wrapper," says Mason. The staff was on to him and kicked the 27-year-old out, doubting his claim of being on the record.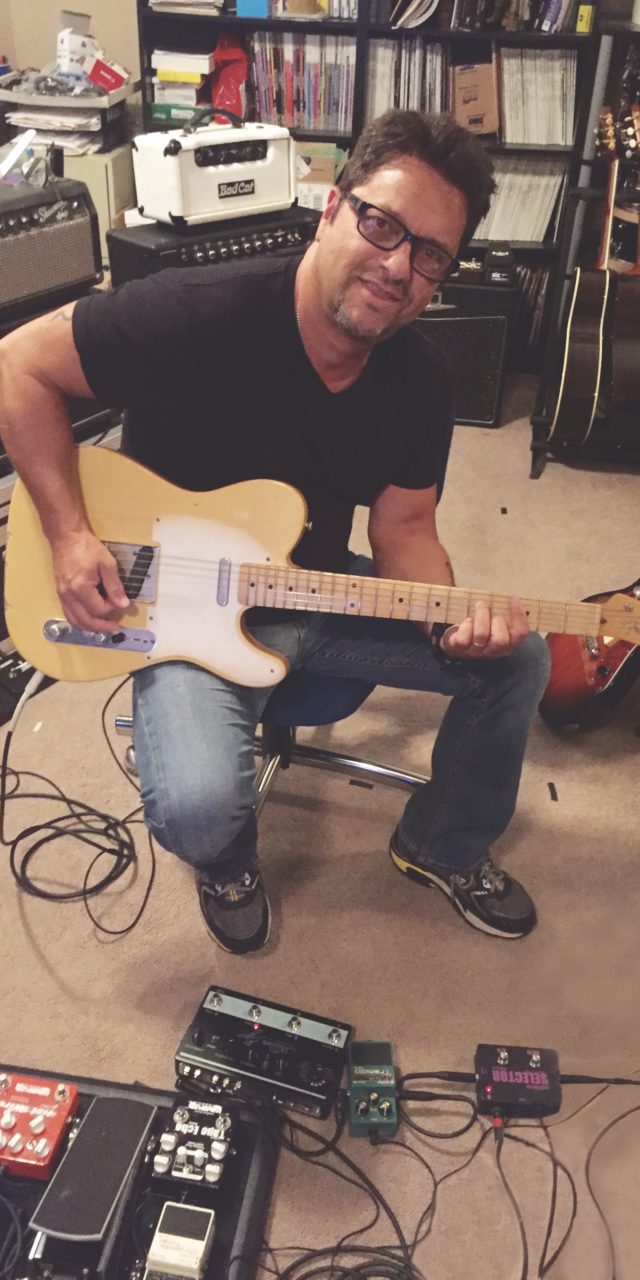 Eager to be discovered, Mason put everything he had into every job. Working as a songwriter, he frequently recorded demos. "I knew the recording would get pitched to the artist and the producer; they would say, 'Who's playing guitar on it? We need him on this,'" says Mason.
The strategy paid off when Keith Whitley decided to cut Mason's song, "Heartbreak Highway," and requested Mason play guitar on it. "That was Whitley's last album [I Wonder Do You Think of Me]; he passed away before it was released in 1989. The album became legendary, and everybody started calling me," says Mason.
Aside from always putting his best foot forward, he also credits his success to timing. "At the time, the studios were all running the instruments direct. It was very pristine, with no amps," he says. "While Dwight Yoakam was already doing the live roadhouse kind of honky-tonk music on the West Coast, they weren't really doing it in Nashville. We—Glenn Worf, John Jarvis, Lonnie Wilson, and myself, just to name a few—were sort of pioneers of that sound. I drug my smokey, buzzy, Stagecoach Lounge Fender amp to the studio to record with."
Among the earliest sessions Mason recorded in that way was the very first Brooks & Dunn album. "It was like an evolution of music—rock and roadhouse, rather than urban cowboy," says Mason. "Alan Jackson followed. His songs are a lot of my Fender Telecaster. I gained a lot of fans through Jackson's stuff."
By the 1990s, Mason was working around 23 sessions a week. To date, he has played on well over a thousand records and is a 12-time winner of the Academy of Country Music (ACM) Guitarist of the Year Award and two-time winner of the CMA Musician of the Year Award. Among the long list of artists that Mason has recorded with are country legends like Josh Turner, Dolly Parton, Travis Tritt, Brad Paisley, Vince Gill, Shelby Lynne, Trace Adkins, Terri Clark, and Trisha Yearwood of Local 257; George Jones; Merle Haggard; Willie Nelson of Local 433 (Austin, TX); plus artists in other genres such as Alabama, Natalie Cole, and Neil Diamond of Local 47 (Los Angeles, CA).
In addition, Mason has a catalog of more than 100 original instrumentals heard regularly on television, in movies, and on commercials. He's played on many movie soundtracks, including A Few Good Men, Bridget Jones's Diary, Ferris Bueller's Day Off, Home Alone, and Indecent Proposal.
One of the things Mason loves most about session work, particularly in Nashville, is the creativity involved. "In Nashville there are a lot of creative juices in the studio; musicians throw out their ideas for what are often just shells of songs," he explains. "In L.A. or New York all the arrangements are pretty much written out for you, but in Nashville we sometimes don't know what we are going to play until we show up in the studio. I really love to be part of the creation of a song."
He also welcomes the variety in session work. "You may do one thing for Shania Twain, but it's going to be different when you go in for George Strait. It's fun to have that challenge. There is an art to being a chameleon. When you walk out of the studio, you want to leave the impression that you've played that style of music since you were five years old," he says. "You try to leave them with their jaws dropping and thinking they couldn't have gotten a better part."
Mason says he often brings a whole arsenal of guitars to the studio. "If we don't have the luxury of hearing the stuff before we get there, I'll bring the whole kit and caboodle—20 to 30 different guitars—a couple Fender guitars: Stratocasters; some PRS guitars—a baritone; some Gibsons—a Les Paul, a 335. You may run into something where you want a hollow-body sound, so a Gretsch with a Bigsby. I'll bring a Rickenbacker, a 12-string, and maybe a sitar."
Mason says the industry has changed fundamentally in the years he's done session work. "Moving from analog to digital has flipped it over sideways. Music is done a lot more expediently now. You don't have to slave over it and play something just right. Give them a bunch of takes and they'll put it together. It's endless what you can do now by manipulating the music with software such as Pro Tools and Nuendo; you can even change the key of the song without changing the tempo."
It also makes music more accessible, he continues, "Somebody can sit in their living room and play an amazing guitar solo, or write something, and the whole world can see it. The kid in the middle of Iowa can become a star, and rightly so. On the professional level, somebody can send me a track from London or Brazil, and I can play on it, and one of the top musicians in L.A. can be on it, then somebody from Cuba can be on it. We are all playing 'together,' but we didn't ever look anybody in the face. While there are good things about that, I'm always looking for the human element of playing off each other."
Another benefit is having more time to create the music. "I can take the time to do the best solo that I can do, while back in the old days, we only had like 15 or 30 minutes to get the solo and move on," he says. "The drawback is that the music can be manipulated so much that somebody can 'play god' with it and it becomes fairly mechanical, stagnant, when you can hear the hard tuning."
"I never thought music was about perfection. If you took Ray Charles and tuned him up, would that be Ray Charles anymore? Would that be soul music? How did The Beatles sound like they did? By not making it perfect; it was a time of invention," he explains.
Though the industry has changed, and there may be less work, Mason says that the best way to become a Nashville session player remains the same. "Hang out; come into a session and watch. Be a good listener and learn how Nashville works. Be friendly and not arrogant. Find someone you can hang out with, but don't be too aggressive. Be patient and persevere. Find out what equipment guys are using to get a certain sound, and learn all the tricks of the trade firsthand."
Though Mason is far from retirement, he says that he feels secure enough with his AFM pension that he can relax and focus more on teaching and creating some of his own music. "I'm a pretty good example of what the union can do for a guy—taking the pressure off him as he gets older," he adds.
It's surprising that one of the most recorded guitarists of all time has only done a couple solo projects. His first album, Hot Wired (1997), was nominated for a Grammy. In 2006, he released the jazz and Western swing album Smokin' Section with his brother Randy, also a member of Local 257. Mason will finally find time to begin work this fall on a second solo instrumental album.
Lately, he also enjoys sharing his knowledge with the next generation through teaching clinics. "I'm able to have a little more fun now, rather than working myself to death!" he says.