Artificial Sweeteners, Artificial Intelligence, and Us [Oct. 2023]
From the October 2023 International Musician magazine.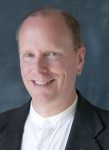 by Ken Shirk  –  AFM International Secretary-Treasurer
The modern human is a strange species—particularly, the variety of the species that is intent on amassing wealth and goods far beyond what could possibly ever be needed for a comfortable existence. Our economic system has conditioned us to embrace and honor maximally extractive behavior to satisfy our continual quest for transient comforts in support of fattening corporate ledgers. Addiction to wealth, comfort, convenience, and energy consumption has resulted in a poisoned environment, economic imbalance, critical social ills, and unnecessary wars.
Last month, I implied that without sufficient alertness, we might end up on someone's economic dinner plate before we even knew we were in the food chain. To continue with the food analogies, I'd like to chat a little bit this month about high fructose corn syrup.
Farmers grow corn, and corn can feed the people. It's a staple food in many cultures. These days, however, after the harvest, the next stop for most of the world's corn won't be on the dinner plates in the family kitchen. Instead, it will be diverted to livestock feed to make fat-marbled bovine steaks, to fuel depots where the ethanol byproduct will be consumed by our automobile engines, and to massive chemical processing plants where it will be transformed into an artificial sweetener, namely, high fructose corn syrup.
High fructose corn syrup is everywhere—sodas, cereals, candies, bottled juices, and teas, and as sweeteners in canned foods, breads, and other baked goods. Chances are that if your sweetened food comes in a bottle or a box from a major manufacturer, it will have high fructose corn syrup as a significant ingredient.
This should be attention-capturing to all of us because, nutritionally-speaking, high fructose corn syrup is a net negative. It takes more than it gives when the body processes it. What it does give to the body can't be used right away, so it's stored as fat. High amounts of this strange sweetener can therefore lead to serious health issues. And the most nefarious attribute of high fructose corn syrup is that it's addictive. The more of it that the body consumes, the more the body wants, and the more the body's health is depleted. It's a vicious, self-destructive circle, and yet we continue to consume it, mostly without a thoughtful pause.
That brings me to AI—artificial intelligence.
I have sometimes observed that, as musicians, our fight against the encroachment of technology is futile. We've never prevailed against the advance of technology, having only managed to incorporate it into our working lives or sometimes to control it through bargaining with employers or advocating for legislative protections.
AI, however, is fundamentally different from every previous technological innovation. It is devoid of humanity.
AI presents an existential threat to musicians. Artificial Intelligence is the high fructose corn syrup of intellectual property. It adds nothing to life or the world that doesn't already exist. It extracts the power of human creativity and individuality and repackages it as a commercial commodity to benefit the ones who control AI, and to the detriment of the person who actually created the content.
AI is artfully invasive appropriated intelligence. An AI product is assembled out of thin air using human-created resources, designed to make human input redundant or replace it altogether. It is metastatic in nature and will embed itself into every aspect of our society, if it is not controlled or stopped.
The Writers Guild and the screen actors are on strike against media producers in part because of the producers' refusal to abandon their misbegotten idea of replacing creative writing and human acting with AI. We musicians will be facing a similar challenge in the not too distant future. We must never get comfortable with the idea that AI is nothing more than inevitable progress, because it isn't. Composers, those working in music prep, and instrumentalists will know the truth of that when their services aren't needed anymore, when music platforms no longer refer to artists' names or band personnel, and when guitars, electronic keyboards, trumpets, and violins are regarded as quaint "period pieces."
The AFM supports the writers and actors in their strike against the encroachment of AI into their work because a win for the WGA and SAG-AFTRA will help musicians when it's our turn to sit at the bargaining table with those same producers.
This is a fight for the professional survival of musicians and all creators. Although a federal court recently ruled that AI product couldn't be copyrighted since it was not derived from the human creative process as required by law, take no reassurance therefrom. Laws can be changed, and somewhere in the future a team of corporate lobbyists will mount a full-scale effort to persuade federal legislators to change the law to benefit the corporate wealth aggregators at the expense of the creators. We must be ready for that assault, and the preparation for readiness begins now.