New TV & Film Contract Ratified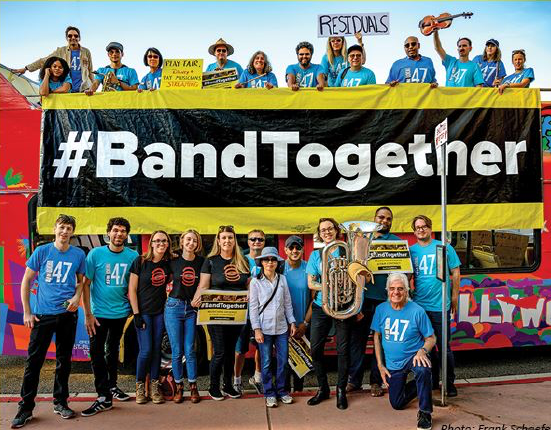 After more than two years of tough negotiations, musicians voted to approve a new contract with the major studios that includes many significant improvements, including for the first time—screen credits for musicians. Musicians will now see their names in the credits on theatrical motion pictures and high-budget subscription video-on-demand (SVOD) programs that are 96 minutes or more in length when produced by the major studios including CBS/Viacom, Disney/ABC, MGM, Paramount, NBCUniversal Sony, and Warner.
Also for the first time, the contract establishes fair wages and conditions for high-budget shows made for streaming platforms. The two-year contract also includes yearly 3% wage increases and increased residuals for shows rented and purchased online.
Los Angeles, Nashville, and New York musicians visited studio executives at their homes, performed impromptu concerts at events honoring entertainment industry leaders, picketed Disney CEO Bob Iger's book signings, and many more actions to pressure the major entertainment companies—and it worked. By banding together, musicians were able to secure a good contract that beat back drastic management proposals and win improvements.
Although this contract does not include residuals for work on made-for-streaming films and television shows, musicians are continuing their fight for be fairly paid for al their work. Actors, directors, musicians and writers have traditionally received a small portion of revenue from the films and television shows they work on. Major entertainment companies pay residuals to actors, writers, and directors for made-for-streaming projects, but refuses to pay musicians residuals on these same projects.