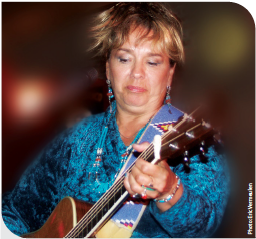 Tours and music festivals took her around the world for nearly 45 years, but Laura Vinson, a Edmonton Local 390 member, always planned to return home to Brule, Alberta. "I am Aboriginal. My people are Mountain Métis," explains the singer and songwriter. "My father was a guide and outfitter, which is packing horses through the mountains. That is our essential culture."
Métis is a distinct heritage, descending from First Nations people and Europeans during the fur trade. They have defined customs separate and apart from other Indigenous groups. Since the Constitution Act of 1982, along with First Nations and Inuit people, the Métis have been recognized as one of Canada's Aboriginal populations. In the 19th century, they emerged as a political force. In a prescient move during the 1950s, the Métis fought for and won protection of 4,500 square kilometers of wilderness on Alberta's eastern slopes. Laura, her brother and sisters, like their parents, still live off that land, work out of the lodge in Jasper National Park, and continue to guide visitors on horseback.
Native people, including Laura's great-grandmother, lived in the region before the government took possession of the land to establish a national park. Families were evicted and sent to Grande Cache to live among the Iroquois and Cree. Laura says, "I was exposed to our issues and needs and prejudice very early."
Music made the isolation of the winters in Alberta more bearable. Laura says, "We had an old record player with 78s of Wilf Carter and Sons of the Pioneers. We got a couple of radio stations sometimes, and it seemed like everybody had a guitar. Another friend played Aboriginal hand drums and we'd swap songs." She was also exposed to international musicians who would play at the lodge. At 13, she competed in Search for Talent, which inspired her to keep singing. Fast forward to 1987, and Laura would have an opportunity to open for early influences June Carter and Johnny Cash.
She joined the union in the early 1970s to do TV work and says, "I've been a member ever since."In 1973, Laura graduated from the University of Alberta. Music remained a passion. She performed as a folk artist and joined a rock band called Bitter Suite. When she started to record, she signed to a country label and was promoted as a country artist. She had commercial success in the 1980s with hit singles like "Sweet Mountain Music" and "Mes Amis O Canada," so country music became what she did for a "living," she says.
"I never really fit into that mold," she says of being labeled a country artist. "I finally realized if you don't really do what you believe in and be true to what you need to say, it's not what you want to do anymore. It's just soul-sucking when you can't really relate what you want to express to people."
A dramatic musical shift coincided with her work at an agency for troubled Aboriginal youth where, she says, "It all started coming out. You're so exposed to the everyday issues of Aboriginal people in the city, and all the problems. One of the most shocking things I learned was that in the 100 years after European contact, more than 10 million Native North Americans lost their lives. It was enough to bring about generational grief, where people are sad and they don't know why. It's a pain that you don't know how to get rid of and people try in any way—inappropriate ways, like drugs and alcohol."
Her album Voices on the Wind reflects the kind of loss that is tantamount to genocide. "Add to that the tragedy of residential schools, and it's just devastating," Laura says, referring to Canada's brutal system in which Native children were taken from their families, forcibly disinheriting them. "They were not allowed to speak their language; they cut their hair, made them wear white clothes, and go to a white church. They learned farming, maybe even got to read a little bit if they were good."
Of the 150,000 Native children placed in residential schools, it's estimated that 6,000 died. Many more were physically and emotionally abused. The tragic legacy of the system, which lasted 100 years, until 1996, is linked to post-traumatic stress syndrome, alcoholism, addiction, and suicide. Laura says, "As someone who has studied suicide prevention, one of the biggest problems is that people will do what they have seen family members do and it becomes an accepted way out."
"Until people recognize that loss and we can mourn for it properly, we're going to keep having problems." Since the government's Truth and Reconciliation Commission in 2015, public schools have designated funding for education about Aboriginal history. Laura is often invited to schools to perform as a way to help students better understand the history of Indigenous tribes.
Chords of Harmony and Dissent
Inspired by Buffy Sainte-Marie, Joni Mitchell, and Joan Baez, Laura wanted to write songs with a message. It was the kind of artistic expression she'd been missing as a commercial songwriter. She was moved by Sainte-Marie to support the Lubicon Cree, in 1988, at the Olympic games in Calgary, in the boycott of an exhibit of Aboriginal artifacts sponsored by Shell Oil, one of the companies allowed to drill on Lubicon land. The song she wrote in allegiance with the protesters was "The Spirit Sings."
The term Métis derives from the French, indicating mixed or "half." Descendants, who trace their ancestry to both Native North American people and Europeans, often find themselves existing on uncertain ground, living on the fringes of both Native and white societies. Laura, who is of French, English, Iroquois, and Cherokee descent, says, "If you're Métis, you kind of feel like you're really nothing. You're not an Indian and you're not white. And that's kind of nothing. At first, it's really hard to find what is good about that, but I've come to believe that the Métis culture has the best of both worlds. That's the way I try to look at it and present it. But that isn't the way it started out."
She remembers someone telling her mother, "You're not really an Indian, you're just half a half breed, you know?" Laura thought, "Well, doesn't that kind of say it?" Based on the exchange, she wrote the song "Half a Half Breed" and was surprised by the reaction. "I had people come out of the audience going, 'You've just told my story.'"
"One young man came backstage at a festival and he was just holding onto me crying and he said, 'I had no idea. I had no idea.' He was sobbing." The successes in her career are reflected in individual shows, on a personal level, Laura says, "When you touch somebody and really reach them."
The Spirit Sings
In 1991, Laura, her husband Dave Martineau, and his brother Paul Martineau, formed the band Free Spirit. Their theatrical show, based on her highly successful album, Voices on the Wind, features violin, accordion, and bagpipes. Métis music—fiddle style and bagpipes—evolved from Celtic, Scottish, and French-Canadian traditions. "The Scots were very much tribal people, a clan people. There are many similarities, actually, in the music they play." For instance, like the Aboriginal drums, the Pibroch (a form of Scottish bagpipe music) is played to the four directions.
One of her first songs for the Spirit Sings production is the tender elegy "Ancestors Calling," which premiered with the Strathcona Pipes and Drums. Laura laughs when she describes coming up with the title, explaining, "The Scots always had a piper in the brigade who would pipe them ashore. Imagine what the Aboriginal people were thinking. They're settling down for the evening and they hear these bagpipes. So, I called it 'Ancestors Calling'—like the gods are calling you from the other side."
History Revisited
In Alberta, Laura and Martineau often play with an Aboriginal violinist, as a trio. They also collaborate on writing film scores for People and Peaks Productions of the Willmore Wilderness Foundation. The documentaries, which chronicle the stories of Alberta's mountain people, include Long Road Home, Wildie, Women of Willmore Wilderness, and Mountain Mustang.
Though Laura has received numerous national awards throughout her celebrated career, among the most meaningful is the 2018 Lifetime Achievement Award from the Alberta community and Hinton's Arts on Fire. Laura sees a younger generation becoming more in tune with their culture. "It's not so damning to be Aboriginal. They have started to look at their culture as a positive thing, a beautiful thing. It's long, long overdue. They have started drawing on their culture for artistic achievement."
The Reconciliation Commission, in recognition of the atrocities leveled against the Native population, was an "eye-opener" for many people and a step in the right direction, Laura says. "The problem is the textbooks we had been using almost ignored the Aboriginal population. That is changing. [They] are being rewritten to reflect the damage—and the genocide." She says, "You can't keep people in the dark forever."