Vijay Gupta: Bringing Music to the Marginalized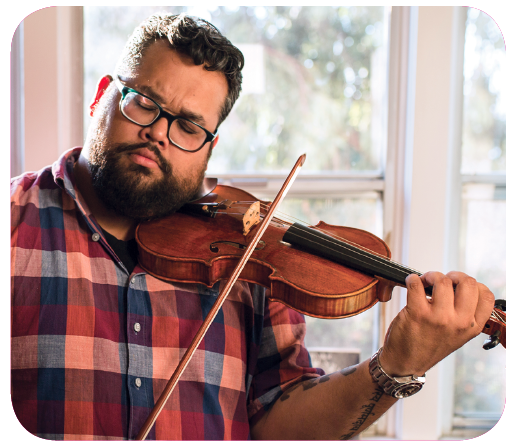 Late last year violinist Vijay Gupta was named a MacArthur Foundation Fellow and received a $625,000 fellowship; he subsequently resigned as a member of the first violin section of the Los Angeles Philharmonic and devoted himself full-time to Street Symphony, the non-profit organization he founded in 2011 that "places social justice at the heart of music making" by bringing great music to marginalized people in Los Angeles County.
The Los Angeles Local 47 member decided to dramatically alter his life because he believes musicians can help "explore humanity through music," and perhaps help the outcast and downtrodden to discover their transformative musical—and human—story. "I believe that the values of artistic integrity go hand-in-hand with the values of service," he says. "As performers, we've been told that our only value lies in being a perfect artistic product. I think we need to reconnect with our humanity if we really want to share the impact of the music we play and love."
For Vijay, reconnecting with his humanity started not long after he joined the Los Angeles Philharmonic at age 19—a career he pursued instead of going to medical school. After a few years of playing in huge venues in LA like The Forum, The Hollywood Bowl, and Walt Disney Concert Hall, he began to see that certain locations around the city were places he and his colleagues never went. One of those places, within two miles of the Walt Disney Concert Hall, is the largest population of unhoused people in the US today—Skid Row.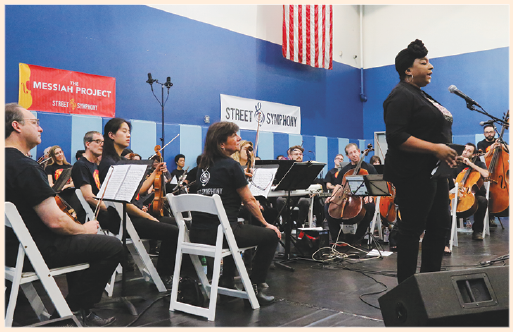 The 50-square-block Skid Row area in downtown Los Angeles comprises predominantly people of color, most of them poor, mentally ill, or formerly incarcerated—or a combination of these. "Within two or three years of joining the orchestra, I asked, 'What the hell am I doing here?' What does LA need with another conservatory-trained classical violinist when I could have actually been healing people and helping people?" he says. "And so my heart kind of shattered; it didn't feel right to me to only be on the stage of the concert hall when there was so much pain surrounding the city."
Around this time, Vijay became close to fellow violinist Mitchell Newman, also a Local 47 musician, then-LA Philharmonic Director of Public Relations Adam Crane, and Nathaniel Ayers, a Juilliard-trained musician living on Skid Row whose story was told in the book and the movie The Soloist. Vijay says he and Crane became particularly close to Ayers, and they decided not only to visit him more often (rather than occasionally bump into him on the street), but they also realized that "there were other Nathaniels out there; that there were other places where people crave connection, and that music could provide that connection," Vijay says.
In November 2010, Vijay and many of his symphony colleagues played a free concert of Beethoven at a mental health clinic on Skid Row. "The impact of that concert never left me because it was clearly not [just] a concert," Vijay says. The men and women in the clinic listened, certainly, but they also interrupted, asked questions, didn't care whether every note was perfect or not. "They wanted to know why we cared, and that opened up a very human conversation," he says. And it made the musicians feel compelled to go back. "This experience came from this place of relational mutual exchange between musicians and the audience. We were not doing this because management told us to; this was driven by the musicians for the musicians."
This was the beginning of Street Symphony, Vijay says, a program that shares music with the dispossessed in jails, mental institutions, and shelters and seeks to restore some dignity, hope, and humanity to their lives. It is also a program to create an environment for professional and emerging artists to become agents of cultural change through community engagement. But Street Symphony does not only play free concerts for severely disadvantaged communities, it also offers numerous other programs, including bi-weekly "music labs" in which professional artists pair with musicians from Skid Row for intensive lessons. Those community musicians, called Fellows, perform throughout the year at Street Symphony events, and as soloists and featured artists at the year-end Messiah Project event (which presents excerpts of Handel's Messiah while also featuring stories, music, and performances from Skid Row community members). These lessons are a way of forging real, meaningful, one-on-one relationships between professional and community artists, Vijay says.
Street Symphony came to fruition only because Vijay had a network of colleagues who believed in the work as much as he did, he says—and a large part of that support and foundation also came from union musicians. "In the very beginning of Street Symphony, no one was opening doors across LA County because I was starting a nonprofit; they were opening doors because these were professional musicians who were coming in to offer the best of what they had to offer and, in my mind, being professional means being part of a union," Vijay says. "When I signed my very first dues checkoff card to join Local 47, that's when I became a professional; it's not when I won the audition with the LA Phil. There was a deep sense of pride in joining the local, as much as there was in joining the orchestra, because I was becoming a part of a network of people who had dedicated their lives to exploring humanity through music."
Vijay explained that every single musician, including members of the Skid Row community, are paid union wages. "We honor their music making by paying them union rates, even though every single one of our concerts is free."
"Our union, to me, is a perfect example of democracy in action," Vijay continues. "A union of musicians allows for the individual agency of every musician, as well as their dignity, to be honored and to be brought into the conversation as vital as their artistry is. Our union allows us to be whole and integrated as people as well as artists."
Vijay says being part of a union allows musicians to protect their physical, psychological, and spiritual health. "Musicians are not commodified products," he says. "Burnout is real in musicians; fatigue is real. [Our union] connects us to a wider community and reminds everyone that their dignity, their health, and their well-being allows them to be the artists that they are."
Union musicians belong to a community and, for Vijay, it is within our own communities where we can make the differences we seek. He applauds his musical colleagues across the US who are working to make such a difference, such as percussionist and Local 4 (Cleveland, OH) member Chester Englander's Access Music program in Cleveland that provides musical offerings to communities whose access to music is most limited; and bassist and Local 77 (Philadelphia, PA) member Joe Conyers' Project 440 in Philadelphia that uses music to engage, educate, and inspire young people to become civic-minded, entrepreneurial leaders. (Conyers was featured on the July 2017 cover of International Musician.)
"I would encourage my colleagues across the country to follow what calls them, to follow what moves them, and to know that their music making is far more than a product that can be bought and sold on stage, but that their music is literally the voice of their humanity and that our world needs us," Vijay says. "Our world needs musicians and artists now more than ever to be the leaders in civic and social engagement."
Since being named a MacArthur Fellow and dedicating himself full-time to Street Symphony, Vijay has opened office space and hired multiple team members for the nonprofit, including a formerly homeless musician who now serves as the organization's director of community engagement. The organization is now preparing for the fourth performance of its Messiah Project, developing a new series of workshops to offer in California state prisons, and focusing on building a sustainable organizational structure to educate musicians interested in social impact and community engagement.
"It's really important to us that we share with our colleagues across the country that they are empowered to do this work in whatever form they want to define it as," Vijay says. "If someone is interested in this work, the first thing I would say is to connect with your own community. There are people who work with veterans, with people experiencing homelessness and addiction in your community, right now, today. And if you're interested in learning how best to help those communities, show up without your instrument and with your whole heart."
Learn more about Street Symphony at www.streetsymphony.org