Musicians Continue To Pressure Disney Executives
Over the weekend, musicians working in film and television took their fight for a fair contract to the Variety 2019 Power of Women luncheon, studio executives' homes and UCLA's campus. On Friday, musicians protested outside the Variety 2019 Power of Women luncheon that was honoring Disney Television Studios and ABC Entertainment Chairman Dana Walden.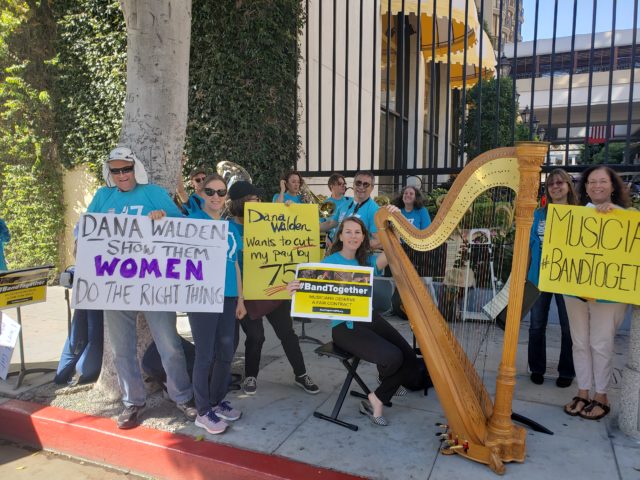 "Over the past years, women have been steadily increasing our representation in the music scoring business," said Danita Ng-Poss, orchestrator and music preparation worker. "I can't understand how Dana Walden can claim to champion women in the industry while undercutting our ability to make a decent living."
Disney is one of the major entertainment companies along with CBS/Viacom, MGM, NBCUniversal, Sony, and Warner Media that pay actors, writers, and directors for streaming work, but refuse to pay musicians industry standard wages and residuals for streaming
Early on Saturday morning, dozens of musicians in open-top tour buses delivered a traveling musical performance outside the homes of film and television executives living in the most exclusive neighborhoods in Los Angeles.
Highly profitable companies like Disney, which earned an estimated $59.43 billion last year, are demanding that musicians take huge cuts. Without streaming residuals, a musician can take a 75% pay cut when a Disney film is released on Disney+ versus in theaters or on network television.
Musicians wrapped up the weekend by performing and leafleting the University of Southern California (USC) campus where Paramount Chairman Jim Gianopulos, Lucasfilm President Kathleen Kennedy, and Universal Chairman Donna Langle sit on USC's School of Cinematic Arts Board of Councilors.
This weekend's protests follow several actions held in recent weeks in Nashville, New York and Los Angeles. Musicians are scheduled to resume negotiations later this week in Los Angeles.