Musicians Band Together Coast to Coast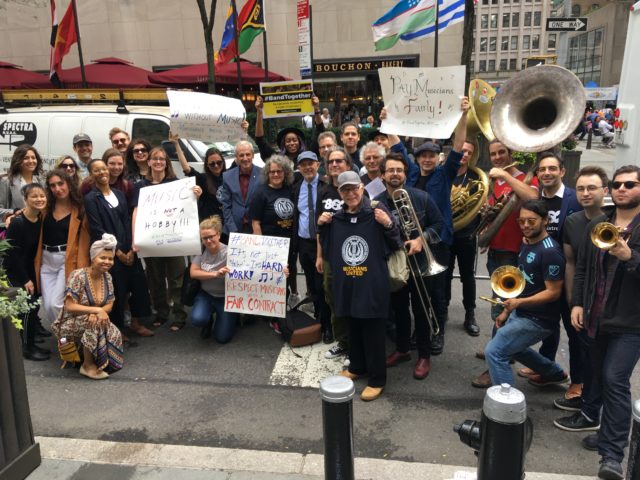 Musicians held rallies from coast to coast calling on film and TV producers to negotiate a fair contract that includes streaming residuals. In Sherman Oaks, a large crowd gathered outside the Alliance of Motion Picture and Television Producers (AMPTP) headquarters, and in New York a concurrent rally took place outside NBCUniversal headquarters at Rockefeller Center.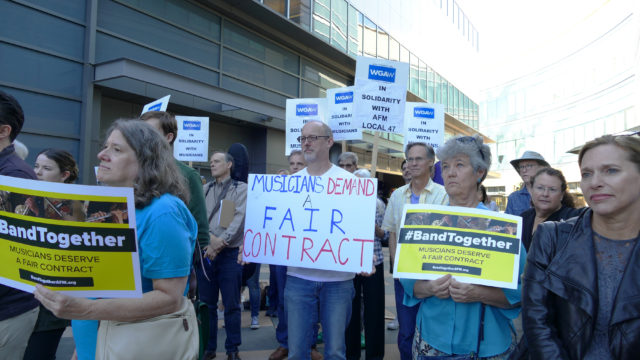 "In made-for streaming productions, we get about 25% of what we get from traditional theatrical or TV film production," said AFM International President Ray Hair outside AMPTP prior to stepping in to the bargaining room. "Why should we make 75% less, so everybody else in their big, rich companies can make more? They bully us into a regressive economic position, in an effort to ultimately eliminate our employment."
Musicians are resuming contract talks with AMPTP today where they are fighting to be paid residuals for films and TV projects made for streaming services. Unlike actors, writers and directors, musicians don't get them.
"I am proud to stand with the thousands of American Federation of Musicians music professionals who rightly deserve a fair living wage," said Congressman Jerrold Nadler (D-NY) who stood with musicians outside NBC. "AFM members are creative professionals who deserve fair compensation and revenue-sharing for their work both on streaming films and television shows. Without music, there really is no TV."
"Despite the immense success of streaming platforms, production companies like Disney, Warner Media, NBC/Universal, and CBS/Viacom are paying musicians a fraction of what we get on traditional platforms such as in theaters and on network television. We are doing the exact same work but getting paid 75% less," said Joanna Mauer, an associate violinist with the Metropolitan Opera in New York who has recorded on numerous film scores, television scores, and pop albums.
As television shows and movies move to streaming platforms like Netflix, Hulu and Disney+, the studios are refusing to provide musicians fair compensation. Musicians explained that very profitable companies like Disney, which earned an estimated $59.43 billion last year, are demanding that they take huge cuts. Without streaming residuals, a musician can take a 75% pay cut when a Disney film is released on Disney Plus versus in theaters or on network television.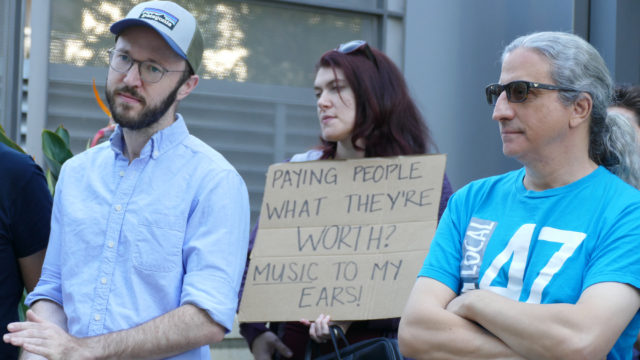 "Your fight is our fight," said SAG-AFTRA President Gabrielle Carteris. "We are standing by your side, because we will be here fighting this same fight. We are doing the same work. You deserve to be respected. You deserve a fair contract. We want you to know we are united with you."
"I am consistently indebted to the amazing musicians I work with for bringing their talent to the music we create together," said film composer Hans Zimmer in a statement. "It is their work that really helps to bring these films, television shows and projects to life. They have my full support as they head into negotiations so that they can be fairly compensated for their fantastic work."
Today's rallies follow several public actions held in recent weeks in Nashville, New York and Los Angeles.