Cellist Dave Eggar on Creating Music
Cellist, pianist, and composer Dave Eggar has been given many labels—including prodigy, virtuoso, musical genius—but he prefers to see himself as a storyteller. "It's going to sound kind of funny, but I really don't know what it means to be a good musician," he says. "I think you're like a storyteller: you're always growing, and everywhere you go, you collect stories, you collect ideas and the many kinds of opportunities you have. I feel like that growth is really important because, as an artist, you always want something new to rejuvenate your playing and then you bring that to every scenario."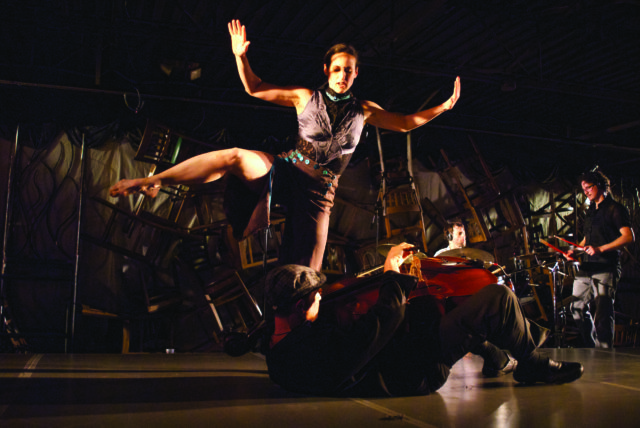 Dave performing with Attack Theatre.

A three-time Grammy nominee, Dave has been a member of NYC Local 802 for more than 20 years. During that time, he has toured the world playing live and working on hundreds of studio albums for artists of all genres, orchestras and operas, television and movie soundtracks, and commercials. Dave seeks to "not just cross over, but to cross through" multiple genres of music; and he is as at home playing reggae, bluegrass, jazz, pop, or world music as he is playing classical, the genre in which he began.
"I've been everyone in this business. I was signed to Virgin Records when I was very young as a pianist. I've been a producer; I've been a songwriter; I've been the cellist; I've been the member of the orchestra; the contractor; and I'm the arranger now. I do a tremendous amount of orchestration and arranging on Top 40 records, so I've related to the union from all these different positions. That's been very powerful because it's made me realize that it's so incredibly important for musicians to work together," he says. "I think a lot of young musicians don't realize that because there's such a competitive energy right now. There's an energy that's about 'I'm going to win on social media' or 'I'm going to charge less than that person,' or 'I'm going to overcharge more than that person,' or 'I'm going to get ahead' or 'I'm going to brand myself.' And what a lot of people don't realize is that when musicians fracture, the value of what we do is significantly disrupted. We've all trained for so many years to do this beautiful thing that touches people, and by coming together as a collective and by standing behind each other, by having standards, that's the way we teach people who are music consumers to value what we do as well."
Dave began playing the cello and piano at age three, performed on Broadway and with the Metropolitan Opera as a singer at age seven, and debuted at Carnegie Hall at age 15. He is a graduate of Harvard University and the Julliard School's Doctoral Program.
Dave played nothing but classical music until he was in his 20s, when he started to become fascinated with the use of cello in other music. "The cello is like a huge bowed fretless guitar—and I found very quickly that I loved the idea of re-imagining the instruments in different styles (jazz, rock, Persian music, South-East Asian folk music)," he once told an interviewer.
His biggest development and expansion as a cellist occurred when he started playing with iconic jazz saxophonist Michael Brecker—what Dave calls his "first big step into the Pandora's Box of all the different things I've done." Those things include performing in various styles and genres with numerous renowned artists, collaborating with the Attack Theatre dance company of Pittsburgh, composing and producing records, working on television and movie scores, and, while touring the world, taking side trips to learn local and indigenous music from communities across the globe.
Much of Dave's career has occurred in the studio, where he has worked on hundreds of records as musician, arranger, composer, and/or producer. He's learned many lessons through the years of the importance of belonging to a union. "Musicians are rewarded for their hard work and not just the people sitting in an office at a record label," he says about why he records union. "I think that's one of the most important things that young musicians don't get about the union, that if we remove standards there will be no standards."
Having standards often means having conversations—sometimes difficult conversations—with producers and executives. For example, he says, a movie studio will ask why $500 is not a big enough budget for a full orchestra to record a five minute section from Stravinsky's "The Rite of Spring," or producers will ask why music students can't just play the parts, or why there are not samples for the pieces they want. He says that having that "gentle conversation" about musicians' rights, and having musicians stand together, allows these producers or big studios to see the value of artists' work. Often, when he gets questions about signatory status or what pay rates should be, he sends the person to the AFM website where they can find information on contracts and pay scales. "And then you get a very different second call," he says, where the person will now realize why substandard wages are not acceptable to pay professional musicians.
"It's so important as musicians that we take pride in these very refined and very emotionally important skills that we have, and it's so important that we stand together on how we value that skill. I think our union becomes in many ways the first line of protection for how we are able to stand stronger with that in a time when our industry is changing so much," Dave says. "It's sort of on us as musicians to teach a new kind of music consumer about how to value what we do. And I think that our union becomes a very important tool in helping people understand that we are professionals, that we are artists. We're not just contestants on a reality show, because that is the perception."
Another important aspect of studio work is having relationships with the artists you work with, Dave says, because it helps you have relationships with artists down the line, whether on future recordings or playing live on their tours. For example, if artists do not want, or fights against, a union contract in the studio, then you have to question if you want to go on tour with that person. "What does that really say for how they're going to be on tour, where you're giving away months of your life," he says. "So, it's very meaningful when you work with artists who really want to know how the union system works and want to make sure that everybody's taken care of."
Union contracts are also important on the arranging side of music, according to Dave and his arranging partner Chuck Palmer. "For me, it feels really secure; I absolutely love the arrangements we do under a union because it comes on a strong foundation," says Palmer a NYC Local 802 member, who is also a percussionist and conductor. "[The contracts] help us make sure we capture all the potential revenue streams that should exist within every contract—so musicians are not just paid for the session but also for secondary markets and film and television."
In the studio environment where time is money, things can move fast, and you have to be on your A-game, being positive and creating a supportive environment fuels the best creation, Palmer says. And allowing that creativity to flow and realizing there is not one single way to do things is Dave's advice to musicians doing studio work. "I think one of the secrets to me having done so much studio work is that I really treat every artist the way an actor would treat a different film. I listen to what the artist is saying, I ask questions about what they listen to, and I sort of re-devise details of my playing to fit that story. So, I would say don't try a one-size-fits-all approach," he says. "Really listen to the artists and listen to the story they're trying to tell and enjoy that you get to make this unique contribution because it's so exciting and it's so fun."