Musicians Deliver Petition to Film/TV Producers Demanding Streaming Residuals
Today more than 100 musicians who work in film and television delivered a petition to the entertainment industry's major producers demanding a fair contract that includes streaming residuals in new media.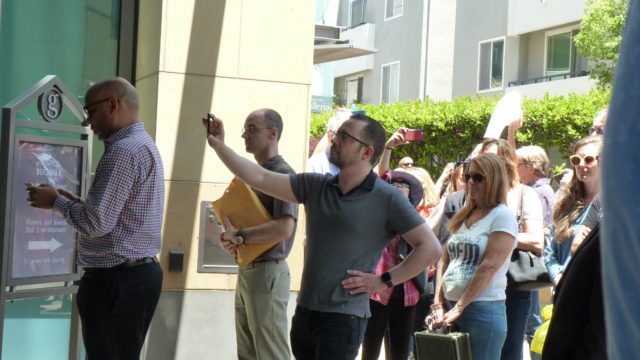 Musicians marched to the front doors of the Alliance of Motion Picture and Television Producers (AMPTF) to deliver a petition signed by hundreds of musicians who work in the industry, where studio representatives denied them entrance.
"They are in this building and they are willing to deny us behind closed doors, but they will not do it in the open," said orchestrator, arranger, and music preparation expert Jason Poss. "They will receive this petition, even though they don't want to accept it. This is a victory. This is just the beginning."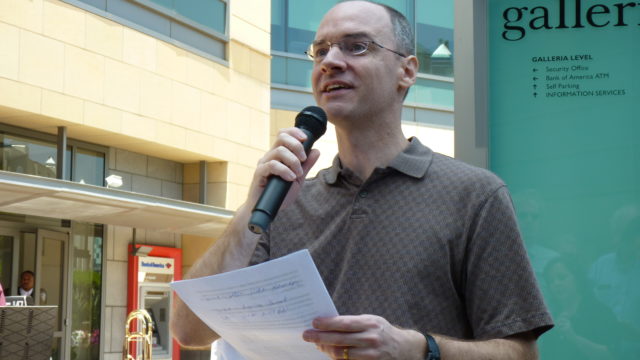 "We are through being scared, we are though being pushed around, we are through being treated like second-class citizens. We know they make huge profits on streaming media. We know they can afford to pay everyone properly," added Jason, a Los Angeles Local 47 member who is on the musicians' committee. "They don't get to make more by sticking it to musicians. That's not fair, that's not right, and today they will know that we are standing together because we will not allow it."
Musicians' ability to earn a living in the film industry is in jeopardy with the transition to digital consumption. Studios pay residuals for actors, writers, directors and others when films and television shows are made for streaming, but management refuses to pay musicians new media residuals.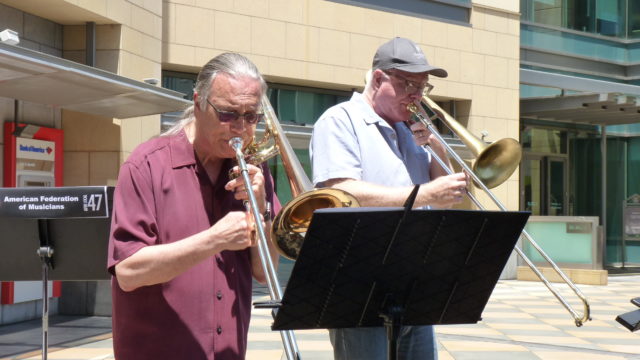 Actors, screenwriters, and teachers joined the musicians outside AMPTF headquarters in Sherman Oaks where a brass quintet performed.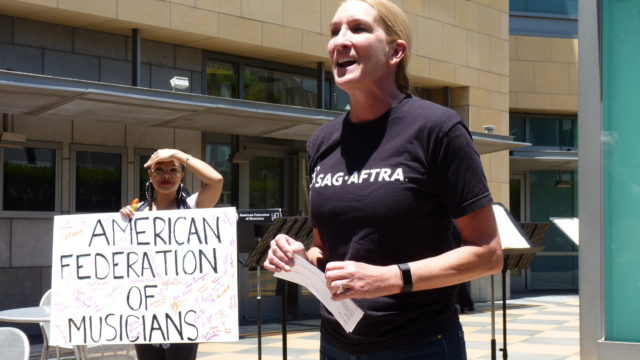 "All 160,000 members of SAG-AFTRA stand united with you for good pay and fair working conditions," said Jane Austin, SAG-AFTRA National Secretary-Treasurer and president of their Los Angeles chapter. "It's not new media. It's now media. And it's time that they start paying. We're all artists and performers, and it doesn't matter if we're in front of the camera, behind the mic or playing an instrument. We all deserve fair compensation regardless of what platform on which our work is being displayed."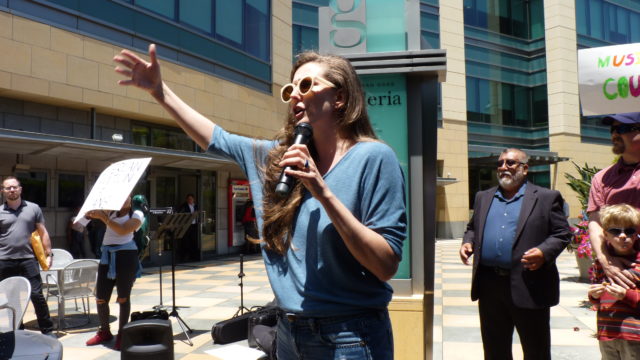 "We writers know that music is a crucial element in bringing our stories to life," said Angelina Burnett, television writer/producer and executive director of Writers Guild of America West. "Musicians make invaluable contributions to our film and television projects, whether they're made for traditional outlets or streaming services. The Writers Guild of America West stands together with musicians to demand fair pay and respect for their work."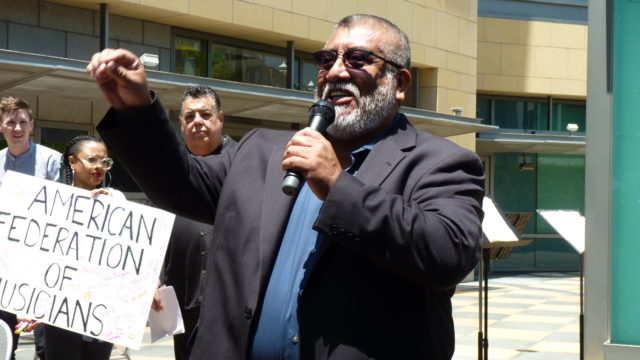 "Many of Los Angeles's teachers are also professional musicians, and almost every musician is a teacher for someone," said Juan Ramirez, United Teachers Los Angeles Vice President. "United Teachers Los Angeles stands together with the professional musicians in demanding that musicians working on streaming and new media projects receive fair pay and residuals."