101st Convention Kicks Off
Together We Can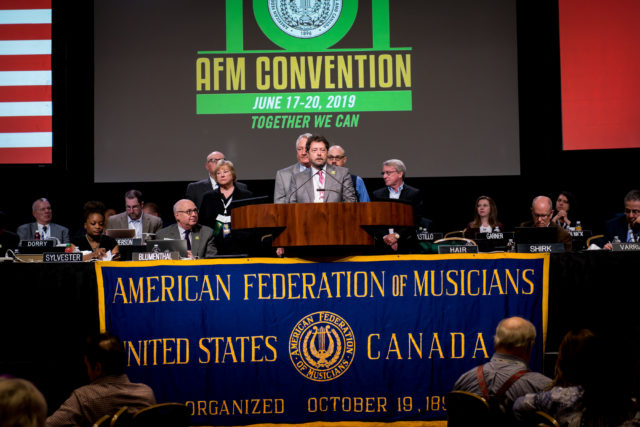 AFM's 101st Convention kicked off today in Las Vegas. Musicians from throughout Canada and the United States gather every three years at a convention to elect the union's leaders including President, Vice President, Vice President from Canada, Secretary-Treasurer, and the Executive Committee.
President Ray Hair delivered a powerful address to delegates from 144 AFM locals following the U.S. and Canadian national anthems.
"It's about sticking together, and protecting each other, because together, we can. That is the meaning of real unionism," said International President Ray Hair. "That is why this 101st  Convention must be about what we can do together, about remembering who we are, what we did, and what we can be."
In his keynote address, International President Ray Hair also shared AFM's major successes from the last three years including:
Collecting millions from film companies for contract violations;
Embarking on an ambitious campaign to secure streaming residuals;
Enacting the Music Modernization Action and maintaining National Endowment for the Arts (NEA) funding;
Launching a comprehensive local officer training program;
Organizing the Boise Philharmonic.