Musicians Rally Outside ABC For Respect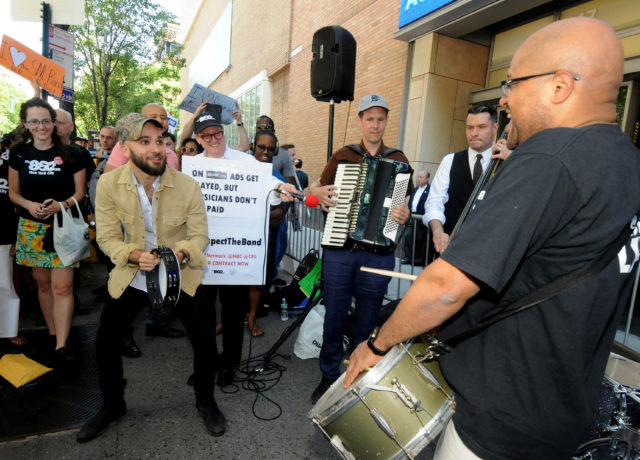 Musicians held a rally and performed outside ABC headquarters in New York today. Elected leaders and others in the entertainment industry joined us for speeches, chanting, and a whole lot of music.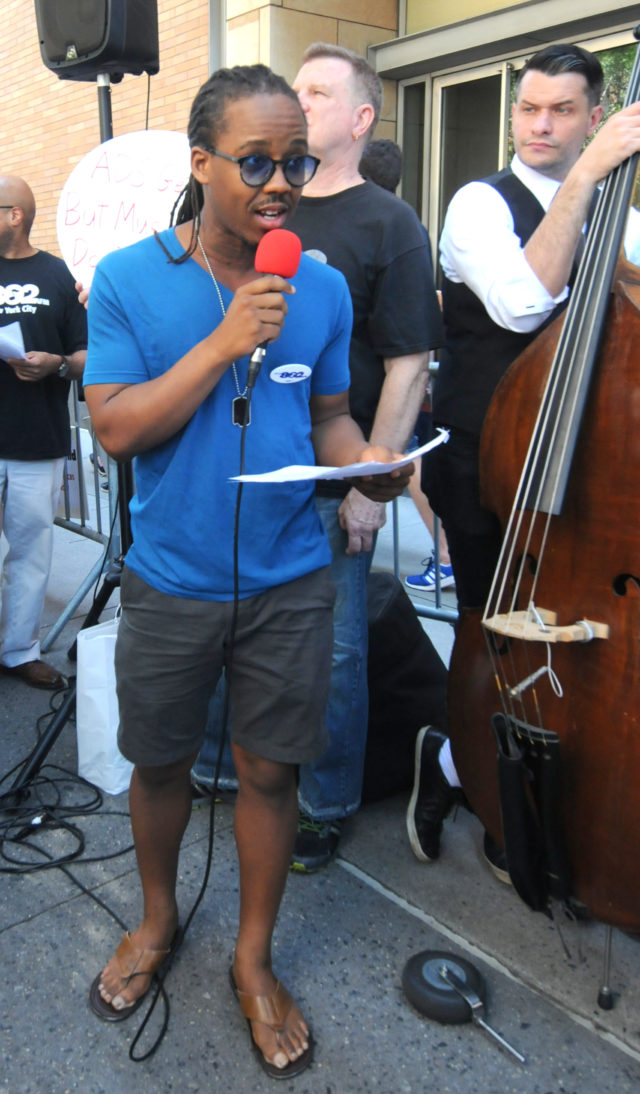 "We aren't paid when shows are "free" to watch online. These shows aren't really free—they are supported by paid advertising," said Louis Cato, a multi instrumentalist who you may have seen on bass, guitar, vocals, drums, low brass and percussion with Jon Batiste's Stay Human on The Late Show with Stephen Colbert. "This is about musicians who have regular gigs like me, but it's also about the hundreds of other musicians working on awards shows, at sporting events, or as guests on live television. I've been fortunate to make a career in music, but as the world has changed so has the industry, and it's only fair that the rules should change as well. If the next generation of musicians can't make a living—everyone loses."
Musicians have been negotiating a new contract for over two years with ABC, CBS, and NBC for work performed on work done on live or recorded television programs initially aired over a broadcast network or in syndication, including variety shows, awards shows, game shows, talk shows, morning shows and sports broadcasts. They chose to rally outside ABC because this round of negotiations is happening inside ABC headquarters.
"I'm a proud union musician. I come from a union family. I'm standing here today and calling on the networks to show some common decency—and simply treat us just like they treat other performers," said Alvester Garnett, a noted jazz drummer and educator who has performed as guest on numerous live television shows. "Musicians just want our slice of the pie. We aren't asking for the whole pie—just the same slice other performers working on these very same shows get."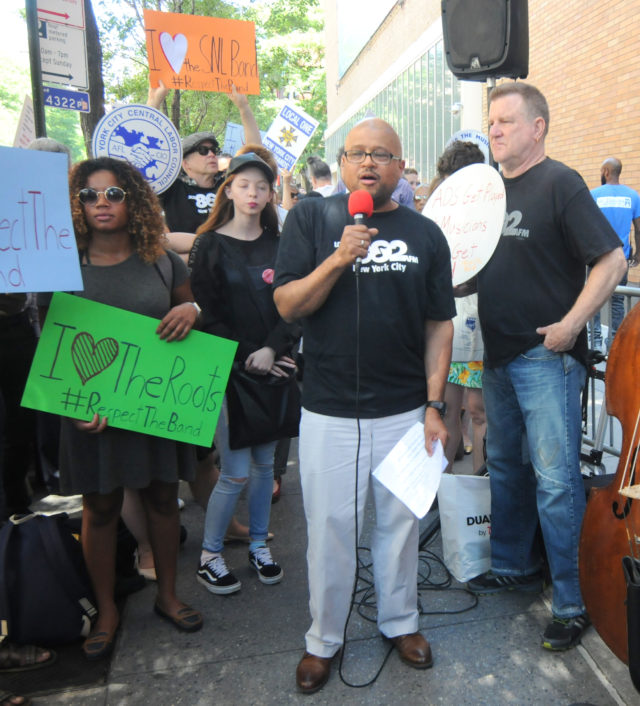 The main area of dispute is the networks refusal to pay band members who work on late-night, award, and other live television shows when they appear on YouTube and network websites. Other performers are all paid residuals when live television shows stream on ad-supported sites, but musicians do not receive residuals for this type of work.
"As key institutions that help make New York an entertainment capital, these broadcasting companies face a choice," said Manhattan Borough President Gale A. Brewer. "Shortchanging the talented artists they rely on will start a race to the bottom that hurts both the entertainment industry and our city. Investing in musicians and fairly compensating them for the use of their work will keep the entertainment industry and New York City on the path to new heights. I urge the broadcasters to do the right thing and Respect the Band."
The networks and the musicians, represented by the American Federation of Musicians (AFM), have negotiations scheduled through the week. The previous live television contract expired in February 2016.
"It's assured that musicians are the only performers on late night and live TV who don't get paid when episodes and clips are viewed sites and platforms like YouTube," said New York State Senator Brad Hoylman. "Shows like Jimmy Kimmel Live!, The Late Show with Stephen Colbert, and The Tonight Show Starring Jimmy Fallon make millions of dollars by selling ads for networks. It's time they share those profits with the people who make their shows successful, the musicians. I'll continue to stand with Local 802 AFM in their fight for a fair contract."