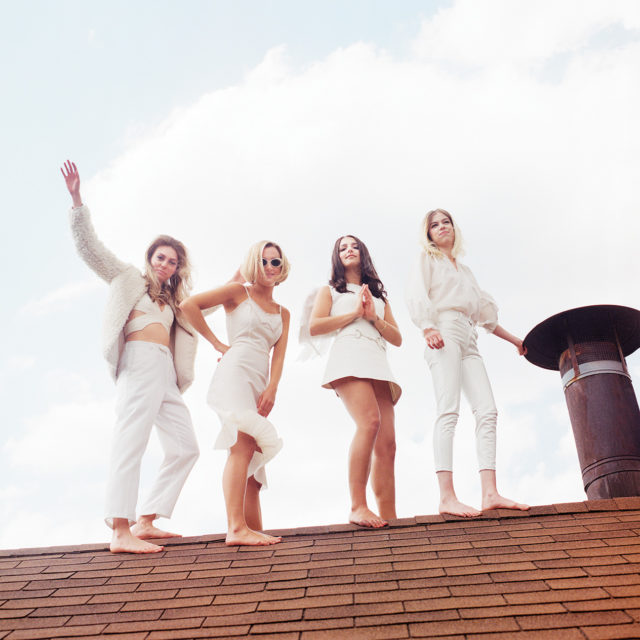 The Toronto band Beaches—all members of Local 149—gained attention in the alt-rock world for a 1970s sound and swagger transported to the twenty-first century. Drawing from the likes of David Bowie, The Rolling Stones, and The Strokes, Late Show's lip-curling lyrics, pounding drums, and snarling guitars feature heavily on the album. Standout tracks like lead single "Money" and "T-Shirt," show off an attitude fit for a young rock band with veteran polish to back it up. We caught up with Leandra Earl (23, guitar), Kylie Miller (20, guitar), Jordan Miller (21, bass and lead vocals), and Eliza Enman McDaniel (21, drums) in the middle of a hectic touring schedule to talk rock influences, record contracts, and whether making it means just getting out of your parents' basement.
How did you guys meet, how did The Beaches form?
Kylie: Jordan is my sister and we started playing guitar together at very young ages, six and seven. We wanted to start a band and we were looking for someone to drum with us and we asked our friend, Eliza, if she would come and audition—and she absolutely kicked ass and the three of us have been playing music ever since. We were in a Disney pop-punk band called Done with Dolls up until high school. At that point, we were looking for another band member and that's when we asked our friend Leandra to join the band to expand the outlook. That's how The Beaches came to be.
Did any of you guys have plans for college or post-secondary education before getting signed?
Eliza: I think the three of us—me, Jordan, and Kylie—were kind of unified in not going to school. With Leandra, it was kind of an overlap with her joining the band and also applying to school. She got accepted to York University for classical piano. She went through a bit of a hard choice and she wasn't sure whether she should commit to school or the band, or both. We kind of came to the unified decision that, if she went to school, she couldn't give her all to either—and at the same time we decided that we wanted to go full force with this band.
Leandra: It was weird because I took an extra year of high school just because I wasn't sure what I wanted to do after grade 12. I knew I wanted to pursue music, and the only option was to become a music therapist or a music teacher, which didn't excite me, really. When I got the offer to join this band I was excited and I didn't know if my parents would support it, or how far this would go. But my parents were super supportive and they're the biggest fans of this band. They come to like every show. It's been amazing. This is what I've wanted to do since I was a kid. Since [hearing] my gal, Avril Lavigne, in grade four, I knew that I wanted to be on stage and play all these instruments with my BFFs, so it was insane to get to do this.
Was there anything about being on a label that deviated from your expectations?
Kylie: There was this kind of expectation, in my mind at least, that once we got signed, we'd release a record and be on tour right away. But the reality of the situation was that we got signed and for three years we were doing writing sessions and working with different producers. At the same time, we were able to work with amazing writers and producers and we became a lot stronger as a band and as friends. We had that time to develop our sound and our band.
Jordan: The one thing I didn't expect was how many people were going to be on our team. I thought there would be maybe six or seven people, but there are like 30 people that have their own unique job at the label that are working for you.
You guys have cited Avril Lavigne as a childhood influence of yours. Why was she so important to you at a young age?
Kylie: You know, being young women and seeing someone who's badass playing a guitar and being a rock goddess. It was an inspiring visual image for us to see and there weren't a lot of people doing that at the time. They were playing a different kind of sound and owning their own thing.
Do you guys take inspiration from other all female groups? You have a lot of male heavy rock references. Is there any other all female group you guys idolized or looked to incorporate into your sound?
Kylie: I think that we don't really think about gender in who we're inspired by; it's not really something we consider. So, there are females we're inspired by, but there are a lot of males. We don't really think about that when we're writing music and making music.
Do you feel like the "all-girl" label sets expectations for you?
Jordan: When we were in Done with Dolls we'd have people come up to us and be like, 'Yo, I really like you guys. I didn't expect you to be good because you were all girls, but you were awesome.' But, honestly, we haven't gotten a comment like that in years. I think it's because there are a lot more females present, especially in the alternative rock industry; it's way less of like a taboo that we're girls in a band.
Can you tell me a bit about how you got involved with Death From Above 1979?
Kylie: We actually met them backstage at a show during Canadian Music Week [in 2016] when we opened up for Eagles of Death Metal and DFA was on tour with them. But it wasn't until Leandra, who runs our social media, became social media buds with the guys that our relationship with them blossomed. They ended up reaching out to us and offering us a spot on this tour. To seal the deal, they ended up coming to our show this summer in Quebec City. They watched our set and officially invited us to the tour. We ended up celebrating with them all night. We went out until five in the morning and got poutine. It was rad.
Jordan: I really think the audition was how long we could stay out with them. It wasn't even our show. [laughs]
Kylie: This is our first big international tour. It's been really fun. A lot of unique opportunities—a lot of firsts.
What was one interesting first?
Leandra: A first for us that I thought was really exciting was we got to go on live radio in Laguna Beach and play our song "Money" for the first time and play a couple other songs. It was really cool because we're getting a lot of radio play in Canada right now—we're number three on the charts, nbd, it's a good time—so to go over to America and start our journey over there is really cool.
Where do you see rock going in the next few years and where do you see your place in it moving forward?
Kylie: There's a nice little community in Toronto currently that we're happy to be a part of. If we can just continue to expand and explore that, that would be really awesome. For us it's all about real music and actual rock, rock 'n' roll movements. There's nothing fabricated about us. Sometimes it's chaotic, sometimes we f*** up, but it's all really fun and raw. I, personally, am not a fan of things that feel fake or things that feel phony, so I'm happy to see a lot of people exploring a more real side of this.
When will you guys know you've made it as a band?
Leandra: We haven't really been on a headlining tour or played many heading shows, so I think when we start to do that and see people coming out to our shows and buying tickets to see just us, then we'll start to realize, oh, cool we're making it.
Eliza: For me personally, I think when we have a real legit tour bus—with beds and a toilet and stuff—I'll feel like we've made it. Currently, we're in a family car. Jordan and Kylie's dad was very nice and lent us his car for the tour and we have a U-Haul attached. But I think we'll have made it when I can sleep on my bed in a tour bus with a fridge and a driver [laughs].
Jordan: I think we've made it when I can move out of my parents' basement. Like, that's my goal right now.
Kylie: When we were in New York City, someone saw a couple people across the street yelling "Beaches!" while were trying to go get a bagel in the morning, and I said to Leandra, "Oh my God we've made it, people know who we are here!" And then we cross the street and see they're our friends who were in New York at the same time. So, still making a name for ourselves, I guess.