TV Musicians Demand Respect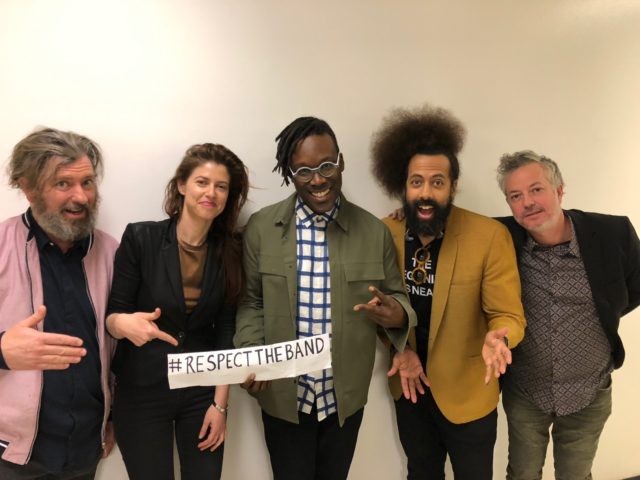 Musicians working on late-night, award, and other live television shows are calling on the networks to pay band members when they appear on YouTube and network websites.
"Other performers are all paid when Jimmy Kimmel Live! streams on YouTube or other online outlets, yet musicians are paid nothing. Musicians just want to be compensated for our likeness and our music," said Cleto Escobedo III, Musical Director of Cleto and the Cletones. "I love Jimmy, the producers, and everyone we work with. We just need to make sure the networks treat us and ALL of our colleagues fairly."
"The music that you hear and watch on YouTube and streaming systems is hand made with the sweat and expertise of music makers who dedicate their lives for the enrichment of others. It is demoralizing and wrong when this is taken without equitable compensation. We are only seeking what is right and fair for our livelihoods and our families," said Ray Chew, music director of Dancing with the Stars and Showtime at the Apollo. Chew is a former Saturday Night Live band member and American Idol music director.
Musicians who perform on live television shows including Jimmy Kimmel Live!, The Late Show with Stephen Colbert, The Tonight Show Starring Jimmy Fallon, Saturday Night Live, and The Voice aren't paid when shows are "free" to watch online. But these "free" shows aren't really free—they are supported by paid advertising. Other performers are all paid residuals when live television shows stream—but musicians do not receive residuals for this type of work.
"This is about more than the headliners you see on television. It's about the networks treating everyone on these shows fairly," said Danita Ng-Poss who will be serving as a music librarian and copyist for her fourth Academy Awards show in 2018. Ng-Poss has also worked on America's Got Talent and similar shows for the past decade.
"This is about fairness. It's a travesty that musicians are being treated this way. We are just asking the networks for a little respect—and the networks can certainly afford to treat musicians with the respect we deserve," said Harold Wheeler, well known in the Broadway and recording scene, who will be the Oscar's music director in 2018 for the third consecutive year and was also the original Dancing With the Stars music director.
The musicians, represented by the American Federation of Musicians (AFM), have been negotiating a new contract for close to 18 months for work done on live or recorded television programs initially aired over a broadcast network or in syndication, including variety shows, awards shows, game shows, talk shows, morning shows and sports broadcasts. The previous live television contract expired in February 2016 and covers shows including:
American Music Awards
Academy of Country Music Awards
Country Music Awards
Emmys
Golden Globes
Good Morning America
Grammys
Harry
Jimmy Kimmel Live!
Late Night with Seth Meyers
The Late Late Show With James Corden
The Late Show with Stephen Colbert
Live with Kelly and Ryan
Oscars
People's Choice Awards
Saturday Night Live
The Today Show
The Tonight Show Starring Jimmy Fallon
Tony Awards
The View
The Voice
"I should be afforded the same respect as all my colleagues working on these shows. It just doesn't make sense why vocalists are paid when they are on YouTube, but band members don't get anything," said sax player Dan Higgins. Higgins, perhaps best known as the sound of Bleeding Gums Murphy on The Simpsons, has performed on countless live television shows including the Oscars for over 25 years and was in the Dancing With The Stars band for eight years.
"Musicians deserve the same amount of respect as the rest of the people working in live television. Why are we being cut out? Online streaming is the future of television and we can't be the only performers left behind, " said Rickey Minor, who is a former musical director and band leader for The Tonight Show and American Idol.