Jazz Master John Scofield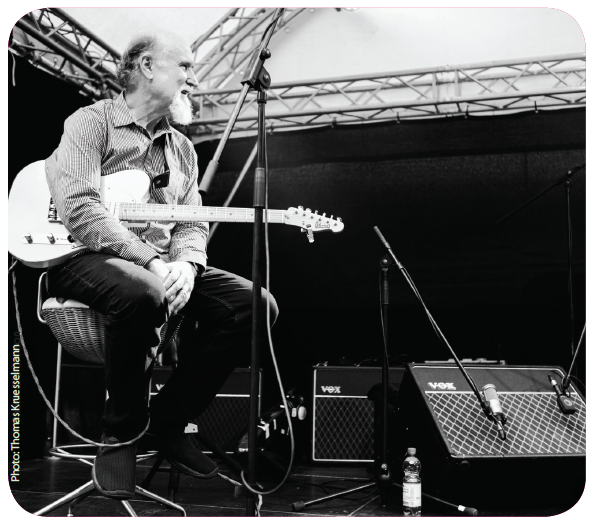 A member of New York City Local 802, jazz guitarist John Scofield's busy career has him touring about half the year. A major guitarist in the jazz scene since the 1970s, he is one of the most prolific jazz geniuses, in a perpetual cycle of recording and touring. In 2016, he received his first Grammy award for the album Past Present, and two more followed in 2017 for Country for Old Men. He's been nominated a total of nine times and almost constantly has several projects in the works. "I haven't had a lot of dead air time," he says.
When the jazz virtuoso began learning to play the guitar as an 11-year-old, he didn't think about what genre he wanted to learn. Like many suburban kids of the '60s, he was first drawn to rock and blues. "B.B. King was the first blues guitarist I tried to emulate," he says, "as well as the most popular guys at the time—Eric Clapton, Jimi Hendrix, and Jeff Beck."
Then, at age 15, his Fairfield, Connecticut, guitar teacher introduced him to jazz. "I loved all the greats," he recalls. "I wore out my Wes Montgomery and Pat Martino records; then I discovered Jim Hall. I was a real jazz fan—not just the guitar players—Charlie Parker, Thelonious Monk, John Coltrane, Miles Davis—I just ate it up."
School Days
When John entered Berklee College of Music and began playing jazz with others, his education and love for improvisation took off. Up to that point, he'd never met any of his influences. "Here I am at Berklee and they announce that vibraphonist Gary Burton is coming to teach. Gary's band, at the time, was one of the absolute top jazz groups on the scene," says John.
Then, something unbelievable happened. Because John's roommate, drummer Ted Seibs, had a set of vibes in their apartment, Burton would come over after classes almost every day to jam with John and his roommates while he waited for the afternoon traffic to subside.
On teacher Alan Dawson's recommendation, John landed a gig with Gerry Mulligan. "He wanted to augment his quartet with guitar and vibes. He hired me sight unseen for the week," says John, who ended up staying with the group for a while and making his first recording—Chet Baker and Gerry Mulligan Carnegie Hall Concert (1974). 
"I borrowed a car and drove to Carnegie Hall with my guitar and amp. I was so nervous that my hands were shaking. To meet and get to play with Chet Baker, bass player Ron Carter [of Local 802], Bob James [of Local 802] on piano, and Harvey Mason [of Local 47] on drums. It was quite a thrill!" he recalls.
Later, John was a member of the Billy Cobham-George Duke Band for two years. In 1977, he recorded with Charles Mingus and joined the Gary Burton quartet. From 1982 to 1985 he toured internationally and recorded with Miles Davis. Along with the enduring influence of Davis, these experiences helped to form Sco's own style.  
From the early 1980s, John has led his own groups, recording more than 40 albums that blend traditional jazz with funk, bebop, fusion, and R&B. Over the years, these groups gathered a wide range of major players. Among his notable collaborators are: Charlie Haden; Eddie Harris; Mavis Staples; Local 802 members Jack DeJohnette, Joe Lovano, Steve Swallow, Brian Blade, Scott Colley, John Medeski, and Louis Cato; Local 174-496 (New Orleans, LA) members George Porter and Dr. John; Local 47 members Larry Goldings and Ricky Fataar; and Local 6 member Adam Deitch.
John's albums explore eclectic interests, from the acoustic album Quiet (1996), anthemic jazz funk A Go Go (1998), and traditional jazz sound of Works for Me (2001) to fusion albums Überjam (2002), Up All Night (2003), and Überjam Deux (2013). That's What I Say (2005) pays tribute to Ray Charles, while Piety Street (2009) is his take on spirituals and gospel tunes, and A Moment's Peace (2011) focuses on ballads.
On the Road
Today, John enjoys playing live as much as ever. He is on the road for about half the year. "The best part about touring is playing the gigs and the worst part about touring is getting there," he quips. Frequently performing overseas, John explains that opportunities are more plentiful in Europe than in the US.
The passion for everything American that developed after World War II spawned a lasting audience for jazz. "There is this great educated public," he says. Also, strong government funding for arts programs in Europe allows even smaller cities to bring in international artists. 
Although John is known for his collaborations with top jazz players, he also enjoys playing with up and coming artists. "The truth is, I learn from other musicians all the time, and at this point, some of them are 30 years younger than me," says John, who has been an adjunct jazz guitar faculty member at New York University (NYU) for the past 10 years, working mostly with graduate and doctoral students. "These students can really play and I have a great time," he says, describing his teaching style. "It's really loose; I just play with the students and talk about what I do."
Looking back at his early career, he says the way the industry functions is very different today. "I remember when publishing royalties were much higher—when record companies actually had some money," he says. "It's harder to start a career these days. When I was a kid, every Holiday Inn had a cover band."
"You can go to YouTube, and for free, watch and listen to the entire history of music at the press of a button," he says. "That's changed everything as far as making a living, and not necessarily for the better."
John recalls the days when the union guy would show up at gigs to check your card. "I wish everybody was contracted all the time and protected by the union and I wish all the gigs went through the pension fund, but it's just not like that," he says.
"I'm pro worker all the way," he adds. "I have only high regard for the process of organizing workers in America in order to get the benefits we deserve. And we need to fight for that."
While he advises young musicians to get out in the field and play as much as possible, he admits there's sometimes a thin line between getting experience and getting exploited. "Jazz has never paid much money. Unfortunately, I see gig opportunities in New York City for young guys just starting out may pay around $50. But those same gigs paid $50 in 1975, when I first came to New York City," he says.
Studio Time
Of late, John's work continues to demonstrate the idea that he can swing anything. His most recent release, Hudson (2017), is an all-star group of Hudson Valley jazz musicians' take on classic rock tunes. John, bassist Larry Grenadier, drummer Jack DeJohnette, and keyboardist John Medeski of Local 802 were brought together for the first time by the organizers of the Woodstock Jazz Festival. "We all just showed up and jammed. It really worked out well, so we decided to make a record and tour," says John.
"It's a very exciting group for me to play with, very improvisation based, so for some of the stuff we play, there's no forethought," he adds. "We recorded songs associated with the Woodstock Festival—Dylan, Joni Mitchell, Hendrix." 
John's previous album, the Grammy-winning Country for Old Men (2016), is similar, but with classic country tunes turned jazz. It features John with Bill Stewart (drums), Larry Goldings (keyboard), and Steve Swallow (bass), performing songs that include hits from Hank Williams, Merle Haggard, George Jones, and Local 257 (Nashville, TN) member Dolly Parton. For example, Williams' "I'm So Lonesome I Could Cry," was transformed into a fast bebop tune, which won a Grammy for Best Improvised Jazz Solo. 
As he wraps up his 2017 tours, John has already begun work on the next album. John will follow the two albums of cover tunes with a yet to be named album of originals. It will be recorded by the John Scofield Quartet.