Management Meeting With Striking Fort Worth Musicians
After six weeks of the ongoing strike of the Fort Worth Symphony (FWSO) musicians, management has finally agreed to return to the table and meet with the musicians tomorrow.
Nearly a month ago management unilaterally canceled FWSO performances through November 6 while showing no interest in resuming meaningful negotiations. In agreeing to meet on Saturday, management has also agreed to postpone any possible further cancellations of concerts until after the weekend.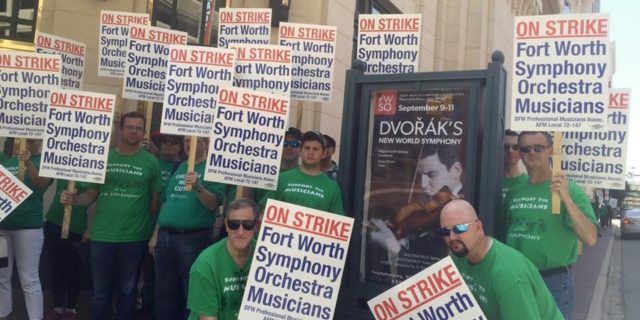 "We hope management comes back to the table with sincere intentions of working toward a resolution that includes a real plan for growth," said AFM Local 72-147 President Stewart Williams. "Canceling concerts months ahead is damaging to the organization and pointlessly punishes the community. Fort Worth wants its orchestra back."
Also on Saturday, the musicians are holding a rally for Growth Not Cuts  at the Water Gardens in Downtown Fort Worth at 5:00pm. In a special showing of support from symphony musicians in the area, the rally will feature brass players from the Musicians of the Dallas Symphony and the brass section of the Symphony Musicians of Fort Worth in an unprecedented performance together. More info here.
And on Sunday, October 23 at 7:00, the Symphony Musicians of Fort Worth will be presenting Vivaldi's Four Seasons featuring Concertmaster Michael Shih, at Broadway Baptist Church, 305 W. Broadway Ave. More Info here.