Fort Worth Symphony Musicians Strike
Instead of rehearsing for the opening concert of the 2016-17 season, Fort Worth Symphony Orchestra musicians went on strike this afternoon.
After 14 months of nearly continuous negotiations and the assistance of a federal mediator, management barely budged in their contract proposals. Management only proposed contracts with wage cuts for musicians—the same musicians who took a 13.5% pay cut in 2010, saving management over $2.7 million.
Yesterday musicians arrived at contract negotiations with plans to bargain, but management declared that their "last, best and final offer" would be implemented next week—reducing musicians' income to more than 5% below what they earned in 2010.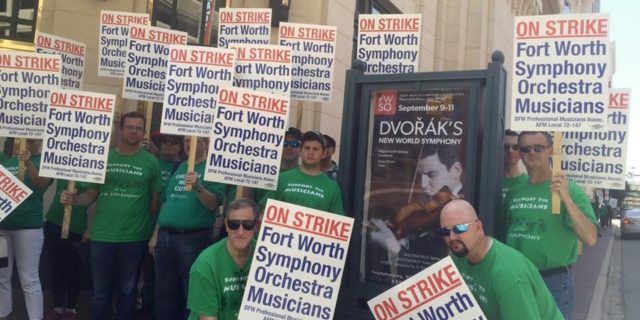 Previous cuts by management have caused musicians to leave the orchestra at twice the rate of the previous decade, and musicians refuse to agree to more damaging cuts.
With strong ticket sales and great reviews in a growing metropolitan area—management should respect musicians with a fair agreement.