Timpanist Jauvon Gilliam Drives the Rhythm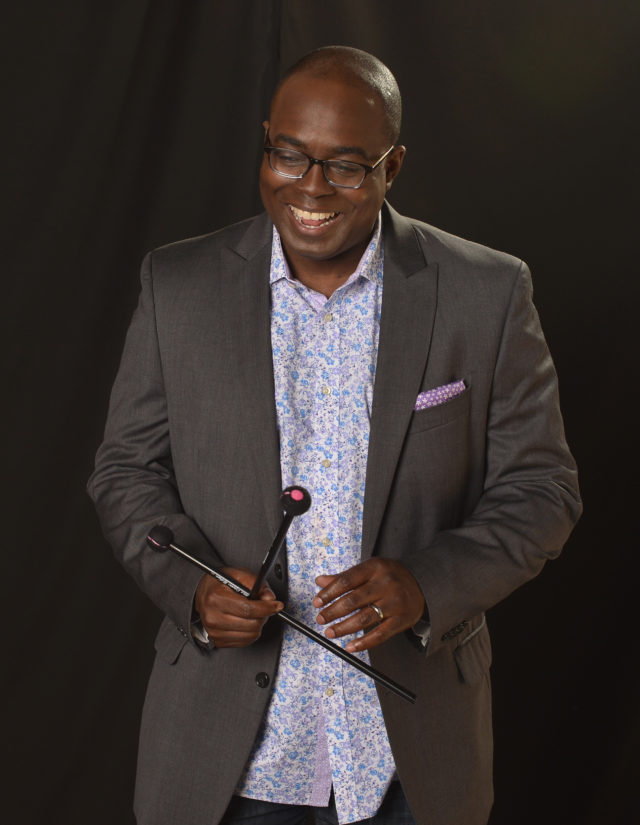 "I have a dream job," says the principal timpanist for the National Symphony Orchestra (NSO). "Rarely am I the superstar or the soloist and I relish that. I like being the main support system, like the load-bearing wall, if you will."
From his riser in the back of the orchestra, sequestered in a fortress of drums, the Washington D.C. Local 161-710 timpanist has a unique vantage point. With this position, comes great responsibility. The timbre, the resonant, rumbling sound, the thick, velvet tones pulsate over the orchestra like a heartbeat. Often called the "second conductor," the timpanist drives the rhythm of the music. Jauvon's spare but powerful notes must be exact, his timing perfect. The power of the timpani is such that if the conductor and the timpanist were out of sync, the rest of the orchestra would fall in time with the sound of the timpani.
Jauvon shapes the energy of timbre by adding layers to the orchestral rhythm. "If I didn't really like where this note was placed, I'm going to change it the next time. Or the color just didn't work for me. Maybe I'll try a different stick or a different beating place," he says. "There are so many different variables from note to note; it makes it very interesting for me day to day."
The Concept of Sound
Jauvon cut his teeth in the Winnipeg Symphony Orchestra for seven years and was timpanist for the Manitoba Chamber Orchestra."It was a great band in a great community and I learned the ins and outs of figuring out what works for me," he says.
His competitive streak in sports extended to his passion for music: "Work harder and smarter so that when the time comes, your average is better than everyone else's best," he says. When he was preparing for the NSO position, Jauvon played for several major timpanists between Winnipeg, Manitoba, Canada, and Washington, DC. In 2009, he packed up his drums and made the 26-hour cross-country trip to the U.S. capital twice to audition. It's a process, he says. "You have to gel with the sections in order to fit."
Not unlike a choir, orchestral musicians strive to blend their sound. Because of its dynamic range, the timpanist must assiduously calibrate his instrument. "I have to work on being as clear as possible in a concert hall, which is designed to resonate, which is designed to amplify," Jauvon says.
The great majority of timpanists in the U.S. use the American system of timpani, but there are a few schools that teach the German technique, notably the Cleveland Institute of Music, where Jauvon studied. With the placement of the largest drum on the right and the pedals on the inside of the drum, it's designed to produce a clean, warm sound. "Hard sticks will get you to sound clean, but they won't get you to sound warm," Jauvon explains. "If you use super soft sticks, you'll be warm, but you won't have any clarity. So being able to do both simultaneously is where I try to find the balance all the time. Every single note that I play, I want to be clean and warm. That's different for Mozart than it is for Mahler, but Mahler still deserves the same clarity that Mozart does."
A Father and Other Teachers
Growing up in Gary, Indiana, in the 1980s, there was plenty of opportunity for a kid to get into trouble. While some of his peers were hanging out on the street, Jauvon was busy with sports or music. His mom was the breadwinner and his dad was "Mr. Mom." "My dad used music to keep me away from the drugs and guns," he says. "I was always busy playing basketball or swimming or playing piano."
Jauvon won his first national piano competition at 11 years old and earned a scholarship in piano performance to Butler University. In his sophomore year, he met timpanist Jon Crabiel. Jauvon was immediately enthralled with the timpani and switched to percussion full time.
Jon Crabiel had inroads to a world of virtuoso players, like former Pittsburgh Symphony Orchestra principal timpanist Tim Adams and the Cleveland Orchestra's principal timpanist Paul Yancich. Crabiel became a mentor and a friend to Jauvon. "I'm the human being that I am because of him. I'm the musician I am because he put me on this path." As the director of percussion studies at the University of Maryland and a coach for the National Youth Orchestra, Jauvon says he tries to "pay it forward" with his students. "I try to give them as much information, as much help as I can because if you have a kid who's willing to put the work in, the sky's the limit," he says. "I see that because it's what Jon did for me."
Jauvon has been a union member since his days in Canada. "Without [our] union, the National Symphony Orchestra isn't the NSO. You must have people who are likeminded across the country who can join forces to collaborate, to hold everybody together, from the bottom up," he says. "It's unique, like a team. Being a part of a strong union is vital to my career. It's vital to making sure that the collective stays whole."
On the NSO's role in the union, Jauvon says, "When there are rough times, we can all help each other out. We are always able and willing to pitch in both as an organization within the musicians' union and individually. We have brought people in to supplement the core group to perform with us when we go on tours or when we make recordings. And when other orchestras around the country fall on hard times, we will also invite them to perform with us. We'll also make financial contributions to their local union. So, if it's a family, you've got to have that in order to stay strong. There is strength in numbers."
Building on Inspiration
Among the most impressive parts of Jauvon's job is its physical location. The National Symphony Orchestra is housed in The Kennedy Center for the Performing Arts. As its artistic affiliate, the NSO plays in the Concert Hall which, with a capacity of more than 2,400 seats, is the largest performance space in the cultural complex. "It's a fantastic place to work," says Jauvon. "The fact that it is the nation's living memorial to the arts—and I'm there a lot—I'm still humbled. I don't take for granted that I get to drive up to that massive place. There are about 17 performing spaces under one roof and they just opened up the Reach, which is the brand new wing of the building, which, I think, has another 11 spaces."
Jauvon says it was President John F. Kennedy's vision that the arts would be a vital part of the nation's fabric. To  that end, as a flagship institution, the NSO participates in a robust community engagement initiative. For an entire week, the orchestra is embedded in a different DC neighborhood, momentarily taking the music out of its grander concert hall and making it available to everyone across the city. Whether it's a presentation in a public school, a master class, or a night club, musicians aim to build deeper connections with audiences in their own local venues.
In DC's diverse city schools, where Jauvon teaches percussion clinics, he reflects on what it means to be that one person who could influence students striving to fulfill their own potential. "I think what was important to me was seeing people who looked like me, who do what I do," Jauvon says. "When I met Jon's teacher, [percussionist and professor] Tim Adams—when I talked to Tim—he looked just like me. He was a skinny black man, glasses and a short cropped haircut, wearing a suit—the perfect ideal of what I wanted to be, what I thought I wanted to be. So seeing him, even though I didn't know it at the time, allowed me to say, 'Hey, this is something that I can do because I see that this guy is doing it here.'"
For his part, Jauvon says, he wants to encourage students to do what they love. "At the end of the day, if it ends up being classical music, great. If they want to be a doctor, great. I just want to instill in them the first thing is, in order to be happy in this life, you have to do what you love and then everything else will fall into place," he says. "So, I think that for me it's more of a philosophy of just paying it forward: Being a good human being and, you know, everything else is secondary."